About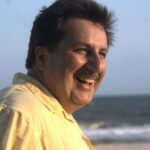 I am an ordained minister, a church pastor by vocation, currently serving as a hospital/hospice chaplain in Northwest Florida after 12-years as the pastor of CrossHope Chapel, a nondenominational church in Mobile, Alabama.
I live along the upper Gulf Coast where I also have a past history as a Beach Wedding Officiant of 5000+ beach ceremonies, having been featured on Fox News and ABC Good Morning America in 2010.
It has been my honor to serve as a pastor and hospital chaplain for over 35 years. In addition to my recent pastorate in Mobile, Alabama, I have served as a pastor for churches in South Carolina (Rock Hill, York, and Aiken) and in Northeast Alabama (Fort Payne and Guntersville).
My educational background includes degrees in religion and pastoral ministry from Southern Adventist University and other institutions. While I have been involved in ministry with different denominations, I hold to the Bible as the superior standard of truth and faith.
You can visit the Books page to learn about my books Dying and Grieving, Hope thru Scripture, Prayer is the Answer, and Simple Wedding Ceremony Planning Guide. If you are interested you can read my personal Christian Testimony and my Statement of Faith.