My Books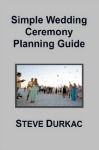 Simple Wedding Ceremony Planning Guide will explain the Six Parts to Plan, Presentation of the Bride, Ceremony Introduction, Exchange of Vows, Exchange of Rings, Pronouncement of Marriage, Three Ways to Vow, Five Parts of a Vow, Creating Personal Vows, Example Vows, and Verbs for Vows.
This practical guide will help you choose your most meaningful and memorable ways to exchange vows, rings, presentation, pronouncements, and special features like the sand ceremony.
118 pages softcover perfect-bound | Buy Now for $15.00 at Lulu's Marketplace or Amazon or Barnes & Noble
•  •  •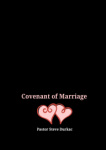 Covenant Marriage Ceremony contains my beach wedding ceremony wording and is now available in print in this small book so other ministers and officiants can use it, too.
It includes my script for the famous Grandma Story and my 1 Corinthians 13 post-wedding devotional of insights on what biblical love looks like in an actual marriage relationship, serving as a great keepsake.
20-page saddle stitch | Buy Now $10.00 at Lulu Marketplace 
•  •  •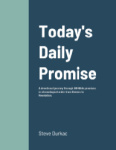 Today's Daily Promise devotional is a journey through 365 selected Bible promises in chronological order from Genesis to Revelation, each with brief textual insight, pastoral encouragement, and prayer application.
Today's Daily Promise devotional is also available to read here at this site from the Home page or by free email subscription, convenient to join at any time during the year, easy to read on any device, and delivered to your inbox each morning at 3:00 AM CST so it's there when you awake.
173-page softcover letter-size book |  $15.00 at Lulu Marketplace
•  •  •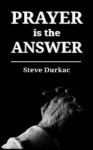 Prayer is the Answer shares the powerful and practical principles of biblical prayer as the answer to problems and difficulties of life. Discover the four principles and practices that make personal and corporate prayer a true meaningful and effective joy for the follower of Jesus.
Prayer is the Answer is a simple read, also available here, that offers a mingling of inspiration, instruction, and pastoral insights that help raise your prayer life to a higher level of communion with your Lord Jesus Christ.
106-page softcover pocket book |  $7.50 at Lulu Marketplace or Amazon