Christian Testimony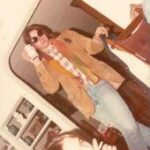 This is the story and testimony of how the hand of the Lord  miraculously intervened in a car accident to save the life of a 17-year old drug using adoptee struggling with purpose for his future and identity from his past. More importantly, it is my personal witness to the saving power of the Lord Jesus Christ over earth's habits of sin, man's futile efforts to escape self, and generational strangleholds that keep families from experiencing the Kingdom of God.
As a teenager in the cold snowy, over-cast, small Northeast Ohio town of Rossford, during the heavy metal punk-rock era of the late 70's, my life took a detour from what should have been a typical mid-America working class home upbringing.
However, I always felt like my life from birth was a detour, because I was an adopted child, who like most adopted children, struggle with identity from the past and purpose for the future.
As a 5th grade student at the local Catholic school, I remember sensing God calling me to vocational priesthood in the Roman Catholic church. This may sound odd, but that sense of feeling called to ministry as I knew it then, brought me a strange peace despite the identity struggles of being adopted.
My life took a turn the summer between my 5th and 6th grade when I was introduced to a world that looked more like a Cheech and Chong movie, than the stable working-class home I was adopted into.
Marijuana, for me and my middle school friends, became a gateway drug to hashish, opium, PCP, LSD, and others. Before I made it to High School, my life became only as hopeful as my next hit of panama red, mescaline, angel dust, or the "Keep On Truckin'" blotter acid sheets, leading me to an arrest and stay at the county Juvenile Detention facility.
My high school years were marked by suspensions for smoking pot, being drunk, selling drugs on school property, and with several car accidents caused by drinking and using drugs.
By the time I was 17 years old, I was resigned to having no hope, want, or expectation to see my 21st birthday. However, meeting Jesus Christ as my personal Savior, brought me a new purpose, identity, and a God-given plan for my life!
Trusting in Jesus Christ as my personal Lord and Savior answered the questions of hope for my future and identity from my past.
Here's how it happened…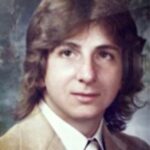 The summer of 1980, following High School, was a time of waking to the guzzle of warm Budweiser, the sweet-smelling aroma of slow burning cannabis, and the befuddled daze of acid, mushrooms, and coke.
I was the lead singer for the rock band Pyramid and that was a summer of playing parties, bars, college campuses, and even radio exposure on the Toledo, Ohio rock station where I was interviewed for the release of our heavy-metal single "Hammer Drive Love."
It was in September of that year, when I was driving home from an area bar where we played, that God reached down and saved me. In the early morning hours of that day, traveling at high-speeds down county roads, I passed out at the wheel while approaching a highway overpass and my vehicle headed over the guardrail above I-75, just south of Toledo, Ohio.
Providentially, an Ohio State Highway Patrolman witnessed the scene as he was heading up the same road toward me, approaching the overpass from the other direction.
I remember staring up into the dark sky and then felt the sensation and sounds of my car slamming unto the pavement…and there before me was the State Trooper's police car, stopped on the road just 20 to 30 feet before me.
I remember sitting in the back seat of the Trooper's car with a sense of numbness, knowing he had already removed pot, open containers, and a vile of purple mesc, waiting for the worse, but he was just sitting there. He wasn't saying anything. He wasn't writing anything. After what seemed an eternity, he reached up and adjusted the rear view mirror and said to me, "I have 5 counts against you" and he named them one-by-one, along with the punishments of fines and jail-time of each charge, then he said, "…but son, what I saw here tonight was a miracle. It was as if the hand of God reached down and put your car back on the road, and I'm not about to intervene with whatever he wants from you, so I'm not writing any of these charges up."
His final words to me were, "You need to go home and talk with the Man upstairs and find out what he wants from you."
Why Save Me?

I did just that, trying to figure-out why a Holy God would bother to save me in the midst of my hell-bound waywardness? Yet, I knew in my heart that God literally reached down and intervened, saving my life, but I needed to know why.
My Catholic background taught me that God was Holy, beyond involvement in our individual lives, and except for the priesthood, He was too Holy to be involved in my sinful disregard of righteousness.
So, with the convictions of God's miracle intervention in my life and a sense that my questions needed a different source, I sought out the only person I recognized as having an honest biblical Christian faith – the mother of one of my band mates. Our band practiced in their basement and it was the official home of Pyramid. He and I formed the band four years earlier as Freshman in High School, and for the past four years his mother would conveniently leave her Bible and other Christian literature open and obviously placed on our drums, amps, and on top of my microphones.
When I approached her, however, she said to me in her soft-spoken voice, "Steve, you really need to get help…those drugs are causing you to tell stories." So, assuming that I was high on drugs again, she gave me a tract called, Four Spiritual Laws and sent me away. Little did she know that I was not high – but on the unknown-to-me experience of the convicting power of the Holy Spirit and serious about my search for an answer as to why God would save me?
Adopted by God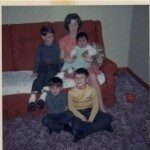 I spent three days reading the tract, and re-reading the tract, and wondering if its message could be true…Did God really have a plan for my life? Can I really trust Him to save me? Why would God want me as His child?
I went out and bought a Bible to check to see if what that tract said was really in there and after that, I knelt at the foot of my bed and prayed the prayer that the Four Spiritual Laws tract suggested.
When I read in John 1:12 that God gives us the right to become His children, through faith, I knew how to accept His adoption, because I was an adopted child in a family with four other adopted siblings.
In the Durkac family, adoption is easy to understand. My father was adopted by my grandparents and my parents adopted me and four other siblings, and I adopted my son.
When I read in John 1:12 that God gives us the right to become His children, through faith, I knew how to accept His adoption, because I was an adopted child in a family with four other adopted siblings.
In the Durkac family, adoption is easy to understand. My father was adopted by my grandparents and my parents adopted me and four other siblings, and I adopted my son.
Experiencing adoption in my own family, allowed me to trust in God to assume responsibility of my life, because I saw my own parents assume responsibility, through adoption, for me and my brothers and sisters.
"Yet to all who did receive him, to those who believed in his name, he gave the right to become children of God— children born not of natural descent, nor of human decision or a husband's will, but born of God." -John 1:12-13, NIV
I arose from my knees in faith that God had saved me and saved me for a purpose, and the unfolding of that purpose would be in my faithfulness in Scripture, my new standard of truth.
God Has a Plan for Me?

I began devouring Scripture, even though I was considered functionally illiterate, I knew God was speaking to me through His Word and I couldn't get enough. I walked away from Catholicism and began a church search for a fellowship that offered deep Bible study.
Someone told me to read the gospel of John because it would be easier to understand, which it was, but I wanted to read what else this Apostle John wrote in Scripture, and that led me to the book of Revelation.
Unfortunately, the churches and pastors I visited tried to turn me away from studying the book of Revelation, until a former band mate invited me to visit his church.
On that day, June 12 1981, a layman preached a sermon on the Bible and how the Holy Spirit interprets the truth of God's will for our lives directly to us. I knew in my heart that the message was for me, that the purpose of my life was to proclaim this very message, and on that day the conviction of my heart became to call others to "…go home and talk with the Man upstairs."
How About God's Plan for You?
My life turned from that day from a passion to sing rock and roll and getting wasted to a proclamation for the gospel of Christ. I went on from that day to seminary and to serve as an evangelist, a pastor, a hospital chaplain.
God doesn't dictate the exact roles and positions we should hold within commerce and community, but He does give us a purpose to follow. Perhaps you have not yet discovered God's plan for your life? Friend, God does have a purpose for you. You may not feel like it, but know this – feeling is like a caboose! A locomotive doesn't need a caboose to get to its destination. And God does have a destination for you!
Why not begin where I did and read what I read – Four Spiritual Laws? You can read my Statement of Faith too, or contact me if you have any questions.