Guide to Biblical Prayer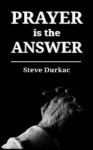 This is an online study to praying biblically, and offers the full text of my book Prayer is the Answer, available from Amazon, and you can read its four chapters through the links below and be introduced to four principles of prayer as taught by our Lord Jesus in Matthew 6:9-13.
The introduction of Prayer is the Answer book is shared as a blog article titled Prayer Therapy: How to Pray for Problems. Please use this message of this book to inspire your own personal prayer life or as a teaching guide for your local church prayer ministry.
  1) Start with Praise
Jesus taught that prayer begins with the focus of our heart and mind. It begins by changing gears and recognizing that we are approaching our Heavenly Father. It is in contemplating the attributes of God, it is in acknowledging His holy character, and it is in praising Him for His mighty works. Praise is the pause that empowers prayer. Prayer that begins with praise brings divine power to human efforts. Prayer that fixes its sights in praise of God's character is prayer that moves the arm of the Omnipotent…[Read More]
  2) State your Petition
Having paused in praise, your heart is now prepared to present your petition to your Father God. Like a child who approaches his Dad's pant legs with a rightful awe and respecting spirit. Prayer is not the art of demanding. It is not to be patterned after a Christmas wish list. Prayer is approaching the throne of God and seeking His glory in your life and the world around you. Prayer is asking with the right spirit, for the right things, and in behalf of the right people…[Read More]
 

3)

 Stand on His Promises
Having laid our petitions before God's throne, we are now called to claim the very promises of God as assurance of answered prayer. Just as Jesus taught us to pray for forgiveness, He then taught us to rest in His Father's assurance to deliver us from temptations. We are to stand upon the very promises of God's word! Standing means to find our foundation in God's promises, it is to repeat His assurances not to rehearse our ills; it is to pour every ounce of trust into what God says, not into what we fear. Prayer that stands on God's promises is prayer that empowers our petitions…[Read More]
 

4)

Share in His Power
Having stood on God's promises you can move forward in God's power! Prayer that starts in praise, states a petition, stands on God's promises, and is a prayer that puts feet to divine power. We do not need to rise from our knees in doubt and wonder when we can proceed in confidence and certainty that our prayers are empowered by the authority of His Spirit…[Read More]
---
1) Start with Praise  2) State your-Petition  3) Stand on His Promise  4) Share in His Power
---