Want to Write Your Wedding Vows?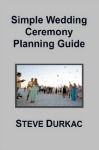 On this page, I've posted a portion from my book "Simple Wedding Ceremony Planning Guide" on 3 ways to do your vows. You can use these to adapt, customize, or to get you thinking about creating your own. Also, as you scroll down you'll find a list of verbs you can use to help you in your vow writing exercise. If you have any questions in your process I will be happy to help! Just contact me.
Reciting Vows Sample:

"I, (bride/groom), do take you, (bride/groom), to be my (husband/wife), my friend, my lover, my soul-mate, my life partner.
I look forward to a marriage relationship of truest friendship, openness, and unconditional love. I look forward to a home made of happiness, a family made of love, and marriage made of trust.
I pledge my heart and will, to love you in good times and bad, to respect you in success and failure, to be faithfully yours in health and illness, to be confident in our marriage in plenty or in want; from this day forward, so long as I live."
Reading Vows Sample: 

"Dear (bride/groom), when we first met, I knew in my heart of hearts that this day would arrive, that together we would vow our love, our mind, our souls in holy matrimony.
My vision for life with you consists of open honesty, loving acceptance, and a commitment to respect the beauty of your mind and body.
I will always be there for you, when you hurt, in sorrow, or struggling with life; I will always face my heart and my mind toward you alone; to you (bride/groom), you will forever be the one true love of my life, as long as life's blood and breath is mine."
Responding Vows Sample:

"Do you __________, take __________, to be your (wife/husband), your companion in marriage,
to be loved and to love, to share in mutual respect, to learn, to live, to laugh and to grow old together;
Do you promise to stand with ___________  in sickness or health, to be hand in hand with him/her in wealth or want, to stay arm in arm with him/her in affection and fidelity, until death causes you to part?"
Verbs for Vows
Here is a list of expressive words that are ideal for romanticizing your own vows. Along with these words, I added a brief phrase to inspire your thoughts as to how it might be used!
If you and your fiance' are considering writing separate vows, groom vows and bride vows, you could each go through the list and circle the words that mean most to you and than have the other use it in their vows.
Admire — to admire you
Advance — advance our relationship
Affirm — to affirm you
Alleviate — to alleviate pain
Amplify — amplify my love for you
Appreciate — I appreciate you
Beautiful — you are beautiful
Believe — to believe in you
Brighten — you brighten my life
Build — to build a life of
Choose — to choose to
Communicate — to communicate
Complete — you complete me
Compliment — to compliment you
Connect — to connect with you
Considerate — to be considerate
Create — to create, with you
Defend — to always defend
Delight — I delight in you
Demonstrate — to demonstrate our love
Discover — to discover each other
Dream — you are the dream of my youth
Drive — you drive me toward
Embrace — embrace your love
Encourage — encourage you to
Engage — engage your heart and soul
Enhance — enhance my life
Enlighten — you enlighten my life
Excite — you excite me
Enthuse — you enthuse me
Explore — to explore together
Express — to express my love
Forgive — to forgive and grow
Foster — foster an environment of
Friendly — to be friendly in spirit
Gentle — to be gentle
Give — to give and receive
Grateful — to be grateful
Grow — to grow in our friendship
Heal — to heal when you hurt
Help — to help you
Hold — to hold you
Hope — to hope beyond hope
Illuminate — illuminate my desires
Inspire — to inspire you
Involve — involve you in my life
Keep — to keep you and to hold you
Kind — to be kind
Laugh — to laugh together
Lead — to lead our home in
Live — to live together
Love — I love you
Loyal — to be loyal
Make — to make our home
Manifest — to manifest a spirit of
Mature — mature together
Measure — keep no measure of wrongs
Model — model to our children
Motivate — motivate each other
Nurture — to nurture you
Open — to be open and honest
Play — to play together
Praise — to praise you
Pretty — you are very pretty
Progress — to aim for progress
Promise — I promise to you alone
Provide — to provide you
Pure — you are pure to me
Purpose — It is my purpose to
Pursue — to pursue our well-being
Receive — to receive your love
Reclaim — to reclaim our love
Relate — to seek to relate to you
Release — to release you from anger
Rely — to rely on your judgment
Remember — to remember your
Respect — to respect you
Return — to return your love
Sacrifice — to sacrifice for you
Satisfy — to satisfy your needs
Share — to share together
Speak — to speak highly of you
Stand — to stand by your side
Success — to join you in success
Support — to support you in want
Surrender — to surrender my heart
Sustain — to sustain our love
Take — I take you to be my
Team — as a team
Touch — to touch your life with
Understand — to seek to understand
Validate — you validate me
Value — I value you
Verbalize — to verbalize my love
Visualize — I visualize us
Work — to work together as parents
Worship — to worship our God together
Yield — to yield to us